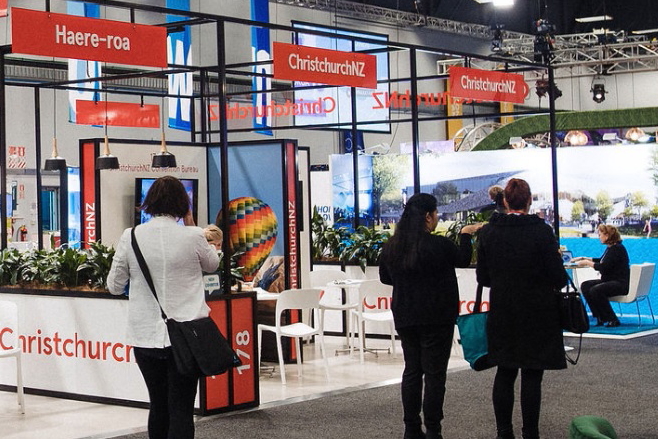 Hosted Buyer Applications Open for BEIA 2022 Meetings in Christchurch, New Zealand
(01 Feb 2022)
Hosted Buyer applications have been opened for the 2022 Aotearoa Trade Events Industry Meetings, which are scheduled to take place in Ōtautahi Christchurch on June 15-16.
Hosted Buyers can choose to commit to either a two-day schedule or a one-day schedule.
The Meetings Hosted Buyer experience includes a personalized meeting agenda, plus complimentary airfare, accommodations, registration and tickets to the Opening Ceremony, Welcome Function and Gala Celebration.
They will also be invited to attend the Celebrity Speakers Showcase, the Tourism New Zealand Regional Showcase and professional development sessions.
Hosted Buyer applications are open for the 2022 BEIA Meetings
"Following the resounding success of 2021, Meetings will once again be the must-attend event of 2022," said Lisa Hopkins, CEO of BEIA. "Over two days, on a spacious floor of the new Te Pae Christchurch Convention Centre, buyers can pre-schedule appointments with their choice of over 150 exhibitors from 18 regions of New Zealand. We invite anyone planning conferences, product launches, incentive experiences, roadshows and team building events in Aotearoa New Zealand to apply.
Australian Hosted Buyers are offered the option to extend their stay and arrive the weekend before Meetings 2022 to experience more of what New Zealand has to offer.
Ōtautahi Christchurch, as the host city, offers a family weekend that offers visitors a deep dive into the city and surrounding areas,
Other pre-familiarization destination choices for Australian hosted buyers include Northland, Auckland, Waikato, Rotorua, Hawke's Bay, Wellington, Marlborough, Queenstown and Dunedin.
Limited places are also available for a full-day showcase experience at Ōtautahi Christchurch on Tuesday June 14, hosted by ChristchurchNZ.
With a limited number of places available, Hosted Buyer applications close on April 14, 2022.