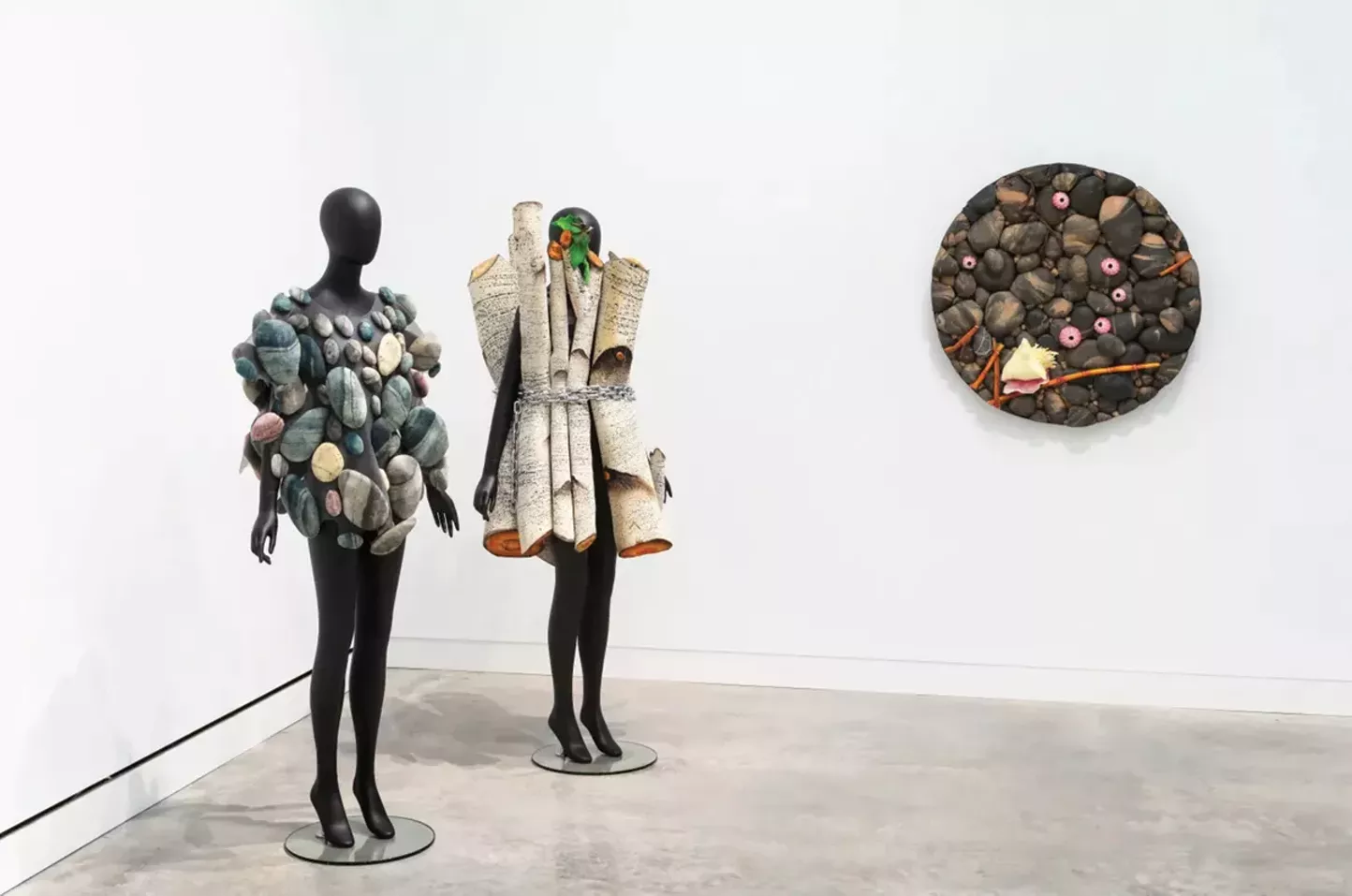 7 of the best Hudson Valley museums to visit | Arts | Hudson Valley
While art might not be the first thing a visitor to the region thinks of, the Hudson Valley and the Berkshires have a connection to American creative endeavor that dates back to Thomas Cole and Frederic Church. What was once just a home and place of respite and inspiration for artists is now home to world-class art institutions, from the Dia: Beacon and Storm King Art Center to the Center for Curatorial Studies/Hessel Bard College Museum. As the weather gets colder, it's a great time to head inside and get acquainted with the amazing works of art on display in the area.
magazine | cold spring
The house built by Arte Povera, Magazine has brought influential Italian artists from this influential art movement of the 1960s and 1970s to its modernist museum in Cold Spring since it opened in 2017. Until January 9, the fascinating "Carpets of Nature" (pusher-natura) by Pietro Gilardi, one of the main protagonists of Arte Povera. By sculpting natural scenes in man-made materials like polyurethane foam and then saturating them with synthetic pigments, Gilardi sought to recreate nature in an uncontaminated form. Some of the pieces, in particular a couple depicting seabirds flying low over the water, are breathtakingly beautiful.
The Hyde Collection | Glens Falls
A private museum with a distinguished collection of European and American art, Hyde's collections were acquired by museum founders Louis and Charlotte Hyde in the early 20th century and include works by El Greco, Rembrandt, Peter Paul Rubens, Edgar Degas, Georges Seurat, Winslow Homer, Josef Albers, Grace Hartigan, Ellsworth Kelly, Sol LeWitt, Robert Motherwell, Robert Rauschenberg and Bridget Riley. In addition to its permanent collection, the hyde hosts rotating exhibitions. Through December 31, "Artists of the Mohawk-Hudson Region" is presented, a juried exhibition featuring regional artists.
Frances Lehman Loeb Art Center | Poughkeepsie
Located on the campus of Vassar College, the Loeb is an educational museum whose permanent collection includes more than 22,000 works, made up of paintings, sculptures, drawings, photographs, textiles, glass and ceramics. This fall, the museum is offering four exhibitions open to the public, including the following. "Ways of Unseeing in Photography" explores the ways photographs can darken the world as much as they can illuminate it and includes photographs by artists such as Todd Hido, Eikoh Hosoe, André Kertész, Abelardo Morell, Billy Name and Alisa Wells – Witteman. "Redefining Feminism at the Women's Studio Workshop" documents the collaborative art-making space that was launched in Rosendale in 1974 and continues to this day as a vibrant studio for women-identifying artists. Women's Studio Workshop specializes in the production of artists' books, and a selection from this collection will be on display.
Samuel Dorsky Museum | New Paltz
Located on the SUNY New Paltz campus, the Dorsky includes over 9,000 square feet of exhibition space spread across six galleries. While the museum's permanent collection contains more than 6,000 works of art from around the world, the focus is on the Hudson Valley and Catskill Mountain region, 19th-century American prints, photography and contemporary metals. Dorsky's program of temporary exhibitions features exhibitions, installations and projects by internationally renowned artists as well as annual thematic exhibitions of works by regional artists. "Benjamin Wigfall & Communications Village," on view until December 11, explores the legacy of the printmaker and educator and the black arts community he nurtured in Kingston in the 1970s and 1980s.
Clark Art Institute | Williamstown
The Berkshires owe a Cold War debt for the location of its most important art museum. Having amassed a superb private art collection, the Clarks, who lived in New York, became increasingly concerned for the safety of their works as tensions between the United States and the Soviet Union escalated in the late 1940s. Williamstown, 170 miles from the theoretical nuclear blast zone, was deemed a safe destination for a museum based on their collection, which includes European and American paintings, sculptures, prints, drawings, photographs and decorative arts from the 14th to the beginning of the 20th century. "On the Horizon: Art and Atmosphere in the 19th Century", on view at the clark from November 19 to February 12, features gems from the museum's collection, including works by JMW Turner, John Constable, Honoré Daumier, Charles Meryon, James McNeill Whistler and Auguste Louis Lepère, among others.
Aldrich Museum of Contemporary Art | Ridgefield, Connecticut
The Aldrichs is an impactful contemporary art museum located in leafy suburban Connecticut. This fall, one of its flagship exhibitions is getting a makeover. In 1971, Lucy R. Lippard curated the "Twenty-Six Contemporary Women Artists" exhibition at the Aldrich. The pageant featured emerging female artists (Howardena Pindell and Alice Aycock among them). Fifty-one years later, "52 Artists: A Feminist Milestone" features the original artists from the 1971 exhibition alongside a new list of 26 emerging, self-identifying or non-binary artists born after 1980, following the evolution feminist artistic practices over the past five decades. . Younger artists include Emile L. Gossiaux, Amaryllis DeJesus Moleski, Stella Zhong and Phoebe Berglund. Until January 8.
Norman Rockwell Museum | Stockbridge, MA
Perhaps the greatest commercial illustrator of the last century, a man whose name is synonymous with Saturday night post (he made 323 covers for the publication), Norman Rockwell is associated with a very particular strain of mid-20th century American life. It's hard not to avoid the word "nostalgia" when discussing his work, as it evokes a small-town ethos that many yearn for. Rockwell, however, is not so simply written off, as his work addressed the social issues of the time, from his Four Freedoms series to his early Civil Rights Movement paintings. To see Rockwell's work in person—often large-scale paintings that were shot for magazine covers—is to reckon with his technical mastery. The Norman Rockwell Museum houses the world's largest public collection of Rockwell works, including original artwork, as well as the artist's studio and related collection, including personal memorabilia, supplies and reference materials . He also mounts complementary exhibitions of contemporary illustration. "Eloise and More: The Life and Art of Hilary Knight," opens Nov. 12 and runs through March 12.